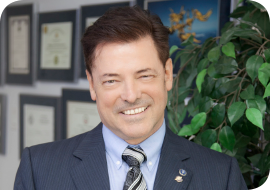 Philippe A. Souvestre
President & Medical Director
MD (France), CEA Neurosciences (France), CES Aerospace Med (France), CES Sports Med (France), BP M Navy (France), AF AsMA (USA), DMO/NOAA (USA), ND (Board Cert)(USA), NGAOM Board (USA), RRP (Canada), RAc (BC)
Philippe is a Medical Doctor from France with over 30 years of professional experience in military and civilian milieus. He graduated with special honours from the University of Aix-Marseilles, France, specializing in Traumatology, Medical Neurophysiology, Aerospace and Sports Medicine. He also holds multiple post-doctorate degrees including, Cognitive and Behavioural Neurosciences, Sports and Aerospace Medicine, Reconstructive Surgery, Rehabilitation Medicine, Acupuncture and Oriental Medicine, Homeopathy, Posturology, and Bioengineering.
Philippe is a Registered Acupuncturist (R.Ac.) with the College of Traditional Chinese Medicine Practitioners and Acupuncturists of British Columbia (CTCMA), where he has served for a number of years on the Board of Directors. He is also a Registered Rehabilitation Professional in Canada, as well as a recognized Diving Medical Officer, a Naturopathic Doctor, and a Medical Traumatologist in the USA.
His passion is about helping resolve all sorts of chronic conditions made up with constant severe physical, cognitive and mental symptoms, and incapacitation with using novel ways to further understand adaptive brain performance. He looks further into the counterparts being either physical or mental incapacitation caused by brain controls' deterioration whether from dysfunction or damage.
As a Medical Doctor in France, Philippe was the medical health and performance advisor for several successful national and professional sports teams including skydiving teams, aerobatics pilots, rugby league team, and Olympic bi-athletes.
Philippe has been a pilot and skydiver for more than three decades and has flown over 1,500 hours on various types of military and civilian aircraft on land and sea. He has been an active Vancouver Soaring Association instructor and tow pilot in Canada.
Philippe has been a long time associate lecturer for physicians and flight surgeons and has also trained flight test crews in Flight Safety and Occupational Traumatology. As a flight surgeon for the French Air Force, he served as an advisor to aerospace corporations and organizations such as Dassault Aviation/Flight Test Division and the French National Flight Test Centre. In the late 1980s, he was chosen as a candidate astronaut for France's national space agency (CNES).
Philippe is an active researcher, both in Europe, and in North America. He has been partnering for over two decades with several University departments in Europe, North America, and China in the areas of Aerospace Medicine and Traumatology. Dr. Souvestre has recently been nominated as a member of the International Academy of Aviation and Space Medicine.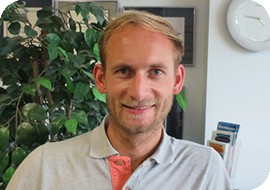 Vincent Durroux
Medical Team
D.O.(M.P), Osteopathic practitioner
Vincent is a French trained Osteopathic Practitioner who completed a 5 year full time diplôma from the Institut des Hautes Etudes Osteopathiques de Nantes (IdHEO, France).
Vincent worked in France for several years before moving to Vancouver in early 2017. He has experience working with patients of all types including toddlers and children, pregnant women, athletes and the elderly.
He has completed post graduate studies on Pre and Post-partum osteopathy, Pediatric osteopathy, treatment of high level athletes, orofascial disorders and bio-dynamic osteopathy. He has an important interest in treating fascias and in physical and emotionnal traumatisms.
Passionate about sports especially kiteboarding and skiing, Vincent has an interest in working with athletes and has worked at a variety of sporting events such as the Marathon of Paris and the French kiteboarding championships.
Vincent has moved to Vancouver to enlarge his osteopathic and healthcare experience. He enjoys challenges and aims to understand the mechanical disorders of each patient. He uses a wide range of osteopathic techniques such as visceral, cranial structural and soft tissue techniques and customizes his treatments using the best techniques required for each patient.
Vincent is a member of Osteopathy BC (previously SPMPO) and of the Register of French Osteopaths (ROF).
Jing Lian
Director of Media Support
BA, Teacher Aid
Jing moved from Beijing to Canada back in 2008 and joined NeuroKinetics in 2009.
She graduated with a University Diploma with one of the Majors being in English Education.
Jing has 5 years experience working as General Manager Assistant in a Chinese Mining and Technology Company. She has 8 years experience working as a Corporate Accountant.
Jing enjoys art, nature, finding and catching the beauty of life.